HAJI SPRINGER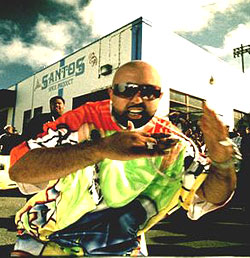 The provocative Haji Springer released his debut album PID Talk in 2003. P.I.D. has been moving units on the West Coast's hip hop underground scene for the last few years. Known as the "slum dog milionare of rap, "Haji Springer rocks the mic like the Taliban and spits rhymes like a cobra. His songs have received mad spins on 106.1 KMEL. The SSS is officially releasing its debut "Apocalypso", following Haji's release from Guantanamo Bay.





Apocalypso
The debut album from SSS is in stores now! The dynamic team of super heroes is here to save the planet from evil, featuring Kool Keith & Mistah FAB!

Click on the "Buy Now" button to purchase the CD or buy the album's record 11 singles from iTunes.